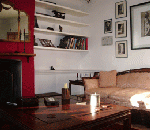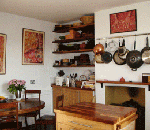 Click each image on this page for a larger view
I'm going walkabout for a year or so, and am looking for someone to keep my room warm for me. You'd be sharing a large, two-bedroom Georgian flat with the World's Best Flatmate, Nicholas (pictured, as it happens, in this recent blog post).
The house is fully (and I think beautifully) furnished. There's a huge sittingroom with an open fire; it has a dining table and breakfast table too and looks out over the green.
There's another dining table in the kitchen, which comes equipped with everything you could possibly want. (Never knew you wanted a fish kettle? Now's your chance to discover why you really do.) Lots of books to choose from, and plenty of time to read them since there's no TV. There's also a small, sunny garden (with another dining table, of course, and a barbecue).
My room is huge, just as well since the bed is made of slabs of teak that measure 10 foot x 10 foot. There's a fireplace with a working gas fire, a good-sized desk and plenty of storage space. The bathroom is shared with Nicholas; there's a second loo as well.
We're looking for a single person to take over my room (no live-in partners, please). Nicholas is fun but exceptionally considerate, and I'd like to find a flatmate that also matches that description.
The rent is £800 a month, plus bills. The bills (electricity, gas, phone/internet) are fairly modest, and we pay £40 a month each to have Renata do floor-washing and other boring bits of cleaning once a fortnight, to avoid squabbling. If you are not a full-time student, council tax is £82.00. I'm leaving in early October, and expect to be away for a year or so, but I'd like to keep it flexible, with the possibility of return at a month's notice.
The house is four minutes walk from Rectory Road station, which takes you to the City (Liverpool Street) in 12 minutes. There are direct buses to London Bridge, Waterloo, Victoria, Kings Cross, Euston and many other places. We're about 15 minues walk or three minutes on a bike from Dalston Junction, the Overground and the new East London line. But a bike is a good idea. Stoke Newington is freindly, fun, and very neighbourhoody – since the entrance to the flat is through the Smalley Close estate, there's sometimes an emphasis on the "hoodie", but you are a stone's throw from some of the hippest bars and clubs in London.
If you are looking for a relaxed, happy household that's civilised without being anal, e-mail me at pisani@ternyata.org