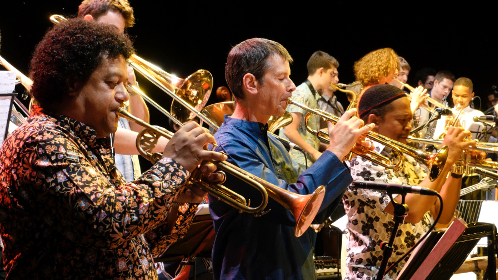 As subscribers know, I've more or less dropped off the HIV map in recent years. That's in part because there are so many other interesting health conditions out there to think about. And that keeps me thinking about why some conditions are more fashionable than others, why some things that affect very few people (such as testicular cancer) get quite a bit of research money while others — dreary things like rheumatism that make life miserable for tens of millions — get hardly any cash at all. You can show PowerPoint slides about the mismatch until the cows come home, and no-one seems to take much notice. But what if we could communicate the inequities in global health in other ways. Through music, for example?
Now, with support from the Wellcome Trust we've got a chance to do just that. In a project called Song of Contagion, I'll be working with fabulous, multi-ethnic East London based Grand Union Orchestra to develop a show which plays music in variations, so that you can "hear" the difference between health conditions — how much death and misery they cause, who's affected by them, how much press coverage they get, and how much money. Eventually, we'll put on a show at the iconic Hackney Empire. But to start off, I need your help. This isn't a Kickstarter — it's completely free! We just want people who are interested in the politics of health and disease, or making great music, or both to show up to fun, one-day workshops in London. The first, to discuss what should go in to the show, will be on Saturday April 23rd, 2016. The show will be shaped by your input. You get to choose the diseases that will be "played" and the factors that influence funding, which will be mapped on to music parameters such as volume, tempo and pitch. Will HIV sound loud and screechy? It's up to you.
Please, join us, and tell your mates, via Twitter or Facebook.