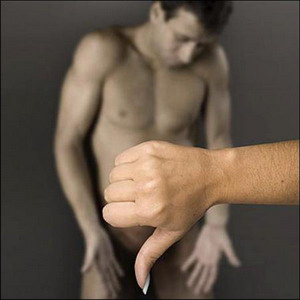 Do we really need research to demonstrate the blindingly obvious? Yes, if you believe that people who call the political shots will change their mind on the basis of a published study (something about which I am skeptical) So here we have it: research published in the International Journal of Impotence Research shows that guys over 40 are less likely to have droopy dicks if they are fit. I'd say that's no surprise to the many millions who use the work "fit" as polite bar-room slang for "fuckable".
As a result of this groundbreaking research, we can put numbers on things that even the smallest amount of participatory research might have taught us: guys who are flabby are over four times more likely to droop than those who are fit. What's interesting to me about this research is the conclusion: "This study reinforces the concept that healthy habits have a direct effect on erectile function." No mention, at least in the abstract, of the organ that affects sexual performance more than any other: the brain. If you're flabby you're more likely to feel generally droopy about yourself, less likely to be in a position where your erectile function even gets put to the test, and more likely to be anxious about it when you do get the chance to perform.
Here's another research question: what's the likelihood that research such as this will have people trading in their blue pills for gym passes? Or that the public health industry will ever change its incentive structure so that people stop getting rewarded for publishing "so what?" papers?