Regular readers know that I have little time for the uber-correctness that tries to wipe sex out of our daily loves and lives. But I am more outraged than usual at the price paid by journalist David Fox, one of the best conflict correspondents in the business, for an off-colour remark made in what he thought was a private chat. Reuters new bosses fired him, with no right of appeal.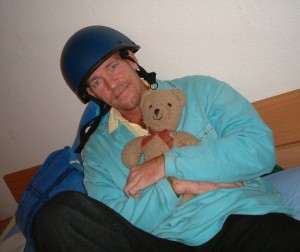 I used to be proud to have worked for Reuters. It was an organisation of clever, brave people dedicated to reporting the truth in often difficult situations. I continue to be proud to have spent 10 years living with David Fox. His determination to give a voice to the men, women and children who are the pawns in conflicts not of their own making definitely took a toll on our marriage. I learned to recognise the lock-down mood that followed yet another assignment in Rwanda, Ethiopia, Iraq, Albania, Afghanistan. I laughed at the sick jokes that go with the daily reporting of incomprehensible grimness. As anyone who has worked as a surgeon, doctor, cop, undertaker or soldier knows (and as comments on Reuters' imperious behaviour reflect) gallows humour helps you cope with shitty situations. I work on a sexually transmitted infection that has killed 30 million people; I can do a tasteless joke or two of my own. But along with the wisecracks came top quality journalism. I never failed to be moved by the stories David filed for an employer increasingly short of brave people who could be dropped in to a disaster area with equipment charged, functional, and ready to file. Read his coverage of the refugee crisis in Zaire and try not to weep.
So short is Reuters of people with David's experience and competence, that they pulled him from his new post as bureau chief in Indonesia to help out with the coverage of the tsunami in Japan. He crunched his great height into an economy seat on an overnight flight and went to work on not enough sleep. An old mate, chatting with him on line in the middle of the night, made a crack about the effect radiation might have on the already bald David. David responded to a fairly classic disaster crack more or less in kind, although bringing women and Brazilians into the comment definitely upped the level of vulgarity. Most of the reporting of this incident has pussied around what David actually said and he will doubtless be appalled if I've let the cat out of the bag. But I feel the need to say that I can see why women might be upset; we're all in a total quandry about our pubic hair these days. Though the subject is virtually taboo even in girl-talk, we spend inordinate amounts of time agonising in private: to wax or not to wax, landing strips yes or no? The constant dilemma of whether to disclose your status before you take your clothes off, the shocked looks if you strip before you tell. For the record I believe that men will soon lose interest in having sex with women who have tortured themselves into looking like pre-pubescents. In this context alone, I'm a proud defender of bush.
Still, it's not a subject that most people want to engage with, least of all when facing an overwhelming human tragedy in the middle of the night. David can be a bit of a lad — it goes hand in hand with volunteering to report from the front line — but he is neither a sexist pig nor an insensitive idiot. He thought he was replying only to the mucker who had made the crack about his hair falling out. Fatally, though, he sent the comment by mistake to a Reuters-only chat room, populated at that hour by a couple of dozen people. Everyone's worst nightmare. He realised his mistake right away and called the IT people within minutes to try and get the comment erased. It seems the techs at one of the world's foremost electronic communications agencies were unable to help.
For an unintended slip of a keystroke conveying a silly, laddish comment to a small number of staffers in the middle of the night, a slip which he tried instantly to rectify and for which he apologised without reservation, David was fired. Let me repeat that. Thompson Reuters fired a brave, loyal journalist who has put himself on the front line for the company time after time after time for 20 years, because he mistakenly shared a gallows-humour joke with an internal audience.
Is that a company to be proud of?