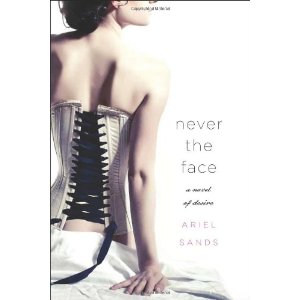 For reasons largely nerdy, I was wandering the London Book Fair today. It put me in mind of books I've read recently, and those I can't help but revisit. Caught in the spider's web of my memory is Joshua Foer's Moonwalking with Einstein, a book in small part about memory and in large part about memorisation techniques. But under my skin, in much more persistent and uncomfortable ways, is Ariel Sands' out-today Never the Face.
Foer's book is delightful, if not ultimately all that memorable (for more, see my grown-up review in Prospect last month). But it does make the point that turning events, names, even playing cards into graphic sexual images tends to make them a lot more memorable, at least to the 20-something year-old blokes who tend to dominate the world memory championship circuit. I'm obviously not a 20-something year-old bloke, and I admit to not yet having read the final published version of Never the Face, a first novel by the publicity-shy Ariel Sands. But I can say that the sexual imagery (and its psychologically complex provenance) of an early draft is deeply etched in my memory in ways I sometimes wish it weren't.
Daphne Merkin, who regaled New Yorker readers with the joys of spanking, describes it thus:
"Never the Face is a story in the tradition of 9 1/2 WEEKS – about the twisted corkscrews of desire, the hearkening after the call of brute submission and dominance that is the dark side of romantic attachment. Rarely has this skewed version of love been portrayed with the clarity and daring that Ariel Sands brings to it; her rendition makes for compulsive and disturbing reading."
I can't say more than that. Read it and (possibly) weep. Certainly, you're unlikely to be unmoved.