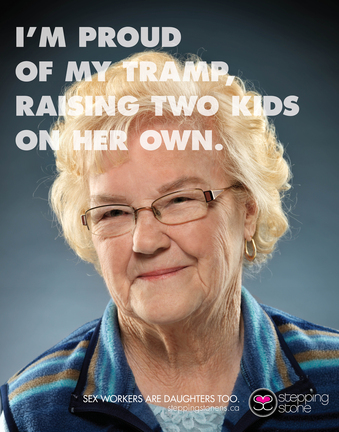 On the one hand, Canada bans Dire Straits. On the other, it fills the streets with posters aimed at extricating sex workers from social non-existence. Halifax group Stepping Stones is running an ad campaign reminding people that hookers are mothers, daughters, brothers, friends. They are also PhD students, civil servants, dental hygienists, actors and many other things when they're not with a client, and shiatsu therapists, shrinks, grief counselors, actors and many other things when they are. Oh, and criminals (though it is my burning hope that this won't be true in Canada by the end of the year).
It's that criminalisation which creates stigma and the need for campaigns like this; the stigma in turn makes it hard to run these campaigns. The Chronicle Herald reports that ad agency Extreme Group's staff used their own grandmothers and Sepping Stones employees for the campaign because "regular" models didn't want the job.
Also fighting invisibility are sex workers in Ottawa. There, Chris Bruckert and Frederique Chabot worked with members of prostitute group POWER to publish a synthesis of what sex professionals said about their work, and (perhaps more importantly) their work-life balance. Many of the comments reminded me just how hard it is to maintain that balance in any profession which society deems an identity rather than an occupation (film star, Royal, hooker). Here's Janette, talking about how the police treat her when she's not working:
"I was showing my new neighbour around, walking him up to the food bank. And as we were walking, one cop turned around and told the young man I was with 'Do you know you are with a prostitute? You could get in trouble for that'. He yelled at the cop 'She is my neighbour and I don't care what she does for a living, she is helping me out. She is still a person'. I was so embarrassed. That did bring tears."
You can read the whole (.pdf) report here. Stepping Stones have published a similar volume, which I haven't yet read, called Sex Workers Talk Back.