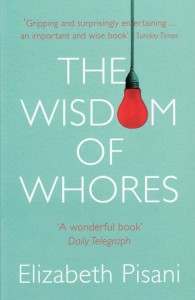 I'm very grateful to my publisher, Granta, for allowing readers free access to the eBook of the Wisdom of Whores for December 2010. A little disclosure: I had a bet with Granta staff about how many people would download the eBook. The bet was made in second bottle territory so the details are hazy; one of said we expected a maximum of 15 downloads, the other did not venture beyond single figures.
As far as I can tell from the file downloads for December, over 5000 people downloaded the book. Many of you were kind enough to write to thank Granta, and some of you copied me. Comments include:
"I'm a 22 year old student from India and I just wanted to thank you and your
publisher for giving the ebook for free, making it more feasible for people like
me, who don't usually have the same financial means to purchase ebooks,"
"Knowledge and awareness is the best present anyone can
receive this holidays."
"Congratulations on this wonderful move from Granta — how fabulous of them!"
"I just wanted to thank you for offering the eBook version of Wisdom of Whores online, for free, for the month of December. People WILL want paper copies after reading it in this format…"
"I think a number of students and my mother and some others will benefit highly, and it gives those of us with paper copies the warm fuzzies toward you and Granta. And I can take your book with me every time I travel – this is a huge boon for those of us who do much of our writing in hotel rooms!"
"I realize that making an ebook available for a free download is a complicated tradeoff between mindshare and revenue for the publisher and author, and I'd like you to know that in my case, at least, I think the tradeoff worked."
"Thank you so much for allowing us to download this book. I read the hardcover
version over a year ago, and the information I learned still informs my research
and discussion on HIV/AIDS today."
"Your decision to make The Wisdom of Whores available in the form of e-book is much appreciated. I write from Nepal and for us first it is a challenge to get a copy, and second the price of books printed abroad is significant."
The eBook is no longer available on this site, but you can find information about e-readers here.
In respect of the paperback cover pictured above which I whined about and now love, I would like to offer to Granta the nine words that are so hard to come by in the English language:
I was wrong. You were right. I am sorry.