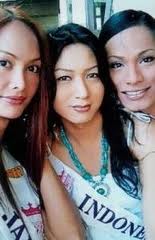 The New York Times has cottoned on to the unpredictable glories of Indonesia. But they've got it just that little bit wrong. Here's what they have to say about US President Obama's childhood minder:
"His nanny was an openly gay man who, in keeping with Indonesia's relaxed attitudes toward homosexuality, carried on an affair with a local butcher, longtime residents said. The nanny later joined a group of transvestites called Fantastic Dolls, who, like the many transvestites who remain fixtures of Jakarta's streetscape, entertained people by dancing and playing volleyball."
If Obama's nanny was playing volleyball on teams like those that now take on the cops behind the Melia hotel, he was not an openly gay man, she was a waria, or transgender. As you can see from the photo above, waria live as women — they even do the whole beauty pageant thing. She probably didn't carry on an affair with a butcher — it's more likely she was "married" to him. Indonesia's attitude to homosexuality in the late sixties was not relaxed, it was unbelieving. Waria, on the other hand, are just a part of society; in some provinces, though not Jakarta, Waria is an accepted gender on the all-important national ID cards. Finally, transvestites don't hang around the streets singing. They hang around the streets cruising for people who will pay them for sex.
Still, nice to see the Times ticking the "exotic diveristy" box as best it can.