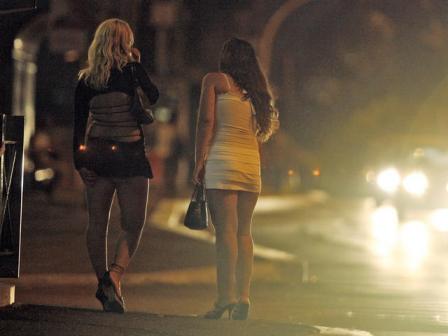 Can you protect your nation from HIV by testing immigrants for the virus? Even the United States now thinks that's a daft idea; it finally dropped its HIV testing requirements for immigrants earlier this year. Now South Korea has followed suit, sort of. The country will drop HIV testing for some, though it has announced different rules for teachers and entertainment industry workers.
Should the International Union of Sex Workers start girding their loins to fight for equal rights for hookers? No. Seoul has decided that people applying for entertainment industry visas do not need to be tested for HIV. People wanting to teach English do. An official of the Ministry of Education, Science and Technology explained the decision thus: "Education is considered a very intimate relationship. According to an unofficial survey by the Prime Minister's Office, the majority of parents wanted solid evidence of their children's teachers' HIV status."
The implication — that English teachers from Wisconsin are more intimate with their clients that hookers from Vladivostock are with theirs — is clearly absurd, and the Korean authorities are squirming a bit about the silliness. But it reminds me of a piece of ancient history in the HIV industry's cooking up of Stigma Soup.
Many years ago, we were trying to come up with ways of measuring HIV-related stigma in international surveys. We suggested three questions: Should HIV infected nurses be allowed to treat patients in hospital? Should HIV infected teachers be allowed to teach? Would you buy cooked food from someone with HIV? To everyone's surprise, a lot of respondents in African surveys replied no, no, yes. So was HIV stigmatised, yes or no? A bit of qualitative work shed more light. HIV-infected nurses shouldn't be allowed to treat patients because they had compromised immune systems and it was better for them not to be around sick people. Not all that stigmatising, then. Food sellers? What? Everyone knows you can't pass on HIV in a pot of stew! No stigma there, either. But teachers, what about teachers? Well they're always having affairs with the pupils; we don't want our daughters to get anywhere near a positive teacher. It strikes me that's stigmatising of teachers, though not necessarily of HIV.
While we're on the subject of HIV and immigration, I do think it remains the great untouched subject of the UK HIV epidemic. A first glance at figures provided by the soon-to-be late and very much lamented Health Protection Agency shows us a great wave of heterosexual infections in the UK.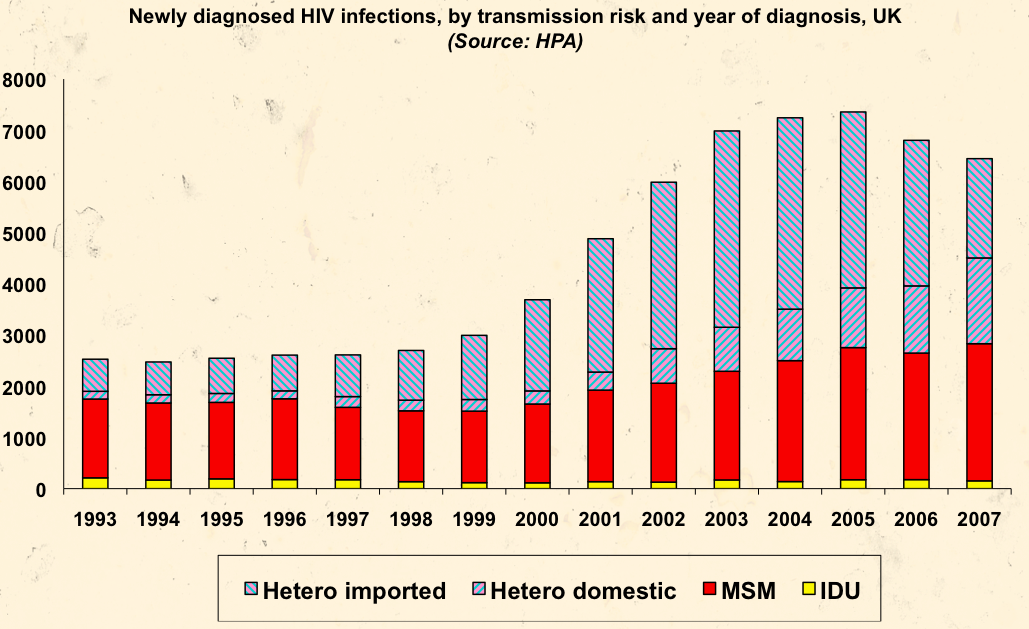 If you take away the infections that are diagnosed in people who were born in a sub-Saharan or Caribbean country with high HIV prevalence, the picture looks very different indeed: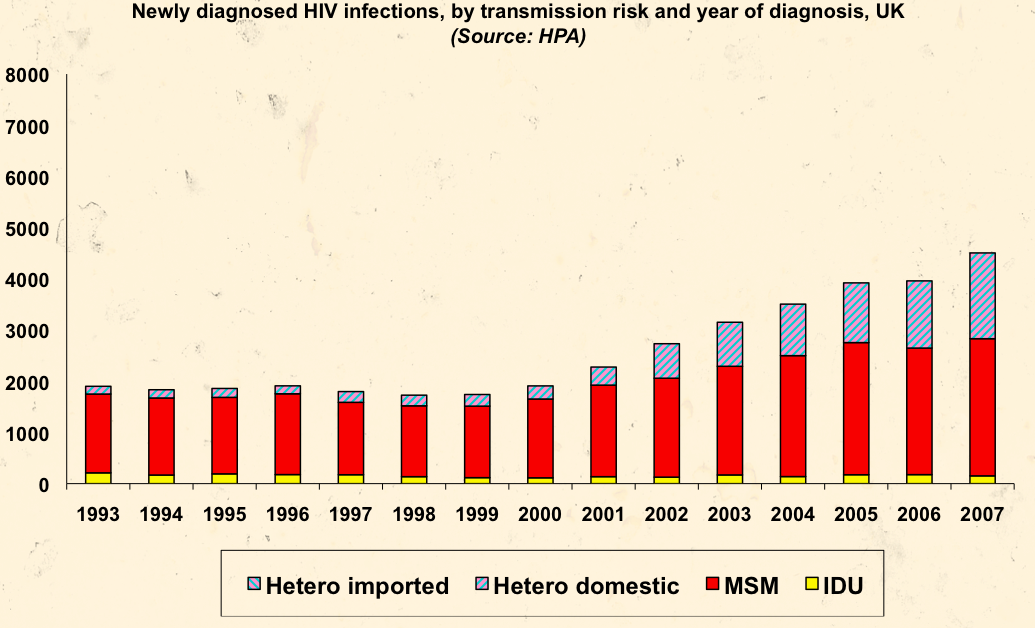 The difference is assumed to be the infections that are "imported". In fact, there may well be quite a bit of transmission within communties of African-born people in the UK. But there's virtually no effective targeted prevention programmes for that group, because we're all so scared of two things. [Note comment on this point] Firstly, the Daily Mail getting hold of the issue and beating up support for a "test the immigrants" campaign. Secondly, the idea that targeted prevention would be stigmatising. Imagine, it might engender a backlash from all those Pentacostal Churches in East London. And then we'd be in the same situation that so many African countries are in: community leaders choosing to deny a problem rather than help their people by dealing with it.