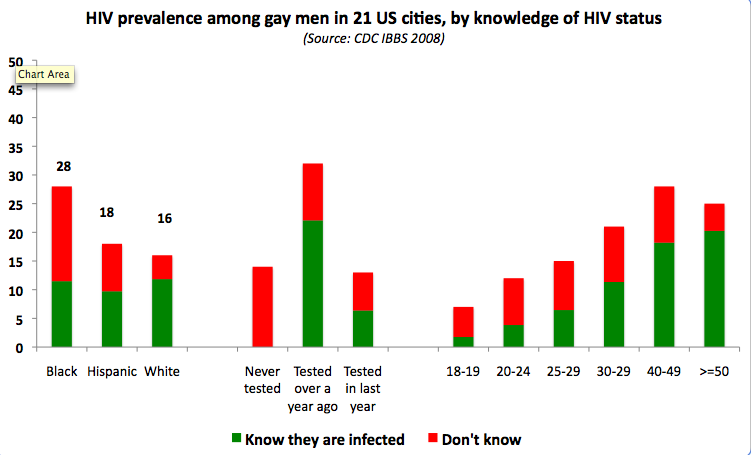 It's taken two whole years, but US CDC has finally published data from the 2008 round of HIV and behavioural surveillance in gay men in 21 cities. Nearly one in five gay men is infected; in some cities (notably Baltimore) it is twice as high, at 38%.
Reacting to the report, CDC's HIV prevention director Kevin Fenton said:
For gay community leaders, it is critical that together we engage and make HIV education, prevention, and testing of the highest priority. We must ensure that HIV is not a rite of passage for young MSM. We can rekindle a sense of urgency and action in the gay community to again embrace the work needed to drive down new infections. Now is the time to act.
But no-where in his lengthy blog post about the results does Dr Fenton say WHY HIV prevention is urgent, WHY young people should interrupt their sexual enjoyment by scrabbling for a piece of latex. He, like me, is part of a dinosaur generation that just assumes that everyone knows that HIV is a Bad Thing. Can the same be said of a generation that became sexually active after ARVs transformed HIV from a death sentence to an expensive annoyance, at least in the eyes of people who are not yet living with the boring round of blood tests, drug failures, to-tell-or-not-to-tell seductions that HIV infection brings? And we're certainly seeing lots of infection in those groups: among teenagers not old enough to drink in most US states (18 and 19 year-olds) seven percent are already positive and because drugs are now keeping people alive, rates rise almost steadily with age.
Sadly, in the two years since the data were collected, CDC hasn't yet managed to publish any results from the behavioural part of the survey, except to tell us a bit about testing. It's not pretty. In Seattle and San Francisco, fewer than one in five gay men who tested positive for HIV in the 2008 survey said he didn't know he was infected — the lowest proportion in the country. In Baltimore, close to three out of four who were actually positive said they thought they were negative or didn't know their status (73%). That was UP from 62 percent three years earlier; the rate was 70% or more in another three cities.
For uninfected guys who think serosorting is a good way to stay uninfected, that should give pause for thought. You're uninfected. You're only going to bareback with someone else who is uninfected. You're responsible enough to actually ASK about your partner's status. Of those who tell you they're negative and really believe it (because they've tested negative), one in 11 (9%) is infected with HIV. That might make you a bit more responsible. Now ask when his last negative test was. If he tells you it was less than a year ago, you should be OK, right? Not really. Among those who say they last tested negative within the last year, 7% (one in 14) was infected with HIV. People infected in the last year are more likely to have a lot of virus in their blood and semen than people infected longer ago. So in fact, that 7% may be among the most dangerous people to be having unprotected sex with (though of course people who were tested longer ago may also have been infected just recently).
Gay men who are also black, like Dr. Fenton, are especially likely to be infected (28% prevalence, vs 16% in white men), and especially likely not to know that they are (59% of black guys living with HIV didn't know it, versus 26% of white guys). [I should note that these data come from men approached at gay venues such as bars, saunas, gyms etc. — places where people go to cruise. They therefore are likely to represent the higher end of the risk spectrum, though they may exclude some high-risk people who confine their cruising to the web.]
I don't think that simply encouraging more testing will be enough to stop new infections. As we've seen, plenty of people who have recently tested negative go on doing risky things (otherwise they wouldn't now be positive). And certainly not all of those new infections are the product of sex with people who believe they themselves are negative, although it is probably a disproportionately high percentage.
We'll know more if/when we see the analysis of the behavioural data. But for now it seems mightily as though we have failed to explain to young, gay men WHY they should make a huge effort to avoid HIV infection in a post-AIDS world. In public health terms there are lots of reasons, notably cost and the danger of resistance. But at the individual level it's frankly harder to make a case, especially when we're simultaneously rightly concerned with "normalising" HIV so as to avoid stigma for those who are infected. "HIV's just another virus: Don't get it!", is a mixed message that is not working so well. Until we make individuals believe that "HIV Sucks; Don't get it!" it will probably hover somewhere between rite of passage and status quo. And it may be time to acknowledge that unless you're a public heath nerd, or pay taxes somewhere where the state pays for treatment, that may not be such a bad thing.
Note: in an earlier version of this post I had included an image which I had randomly taken off Google images. The people in the image were not named, and I didn't seek their permission to use it. One of them has contacted me to request removal of the image. I apologise without reservation for having used it. [But I still want one of those T-shirts.]