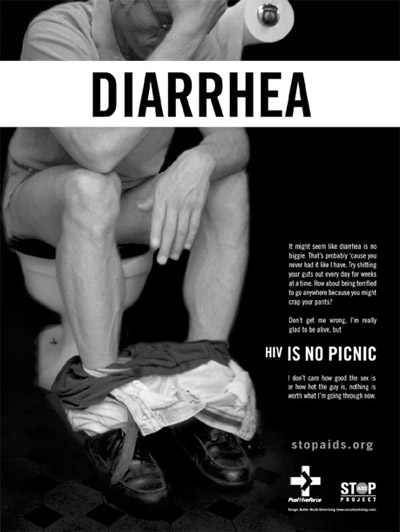 So gay guys go on having unprotected sex after they are diagnosed with HIV, a new descriptive study of gay poz guys at a clinic in Boston tells us. Nothing new there, although it's sobering to be reminded that one in two of the men who know they have HIV choose to bareback with someone who may be negative.
The most important finding from the Boston study is that the more recently diagnosed a guy is, the more likely he is to be exposing other people. We can't tell from the paper if that's something new. It may be that there's a blast of screwing around soon after diagnosis, possibly as a reaction to it, then a calming down. The post-diagnosis binge is one of the possible explanations given by NAM's ever-sensible Gus Cairns, posting over at rectal microbicide site IRMA.
The thing that most determines whether a poz guy will pass on HIV during unprotected sex is his viral load. We know that's likely to be highest for the few months after he first gets infected. So if we do get better at detecting HIV early and we don't do anything about bringing viraemia down instantly, the "post-diagnosis sex binge", if real, would be a worry we'd have to add to the known dangers of the "slutty phase" that affects undiagnosed men as well.
Gus gives us another potential explanation:
3. The historical explanation. It can't be about young gay men not having experienced AIDS, because it was recent diagnosis that was the risk factor, not age. But it could be about prevention fatigue that affects all ages, and lack of relevant, effective and up to date messages. The result would be that the recently diagnosed have higher risk behaviours (and have caught HIV) because they haven't internalised prevention messages in the way that the longer-term diagnosed seem to. Does risk behaviour decline over time in the longer-term diagnosed for one reason or another (more ease of disclosure, self-education, awareness of criminalisation, catching one too many STIs, etc) or will men diagnosed today continue to be higher-risk than men diagnosed years ago?
If it's a binge thing, behaviour will get safer over time. If it's an "I've zoned out HIV messages" thing, it won't. But there might be something else going on: The "HIV isn't so painless after all" thing.
One of the reasons that HIV prevention messages are failing is that much of the public health world still treats HIV as though it's AIDS, as though it is self-evident why you would want to prevent it. But now that AIDS has virtually disappeared, what's the big deal about HIV? Why bother to protect yourself, or to avoid passing it on?
Guys who were diagnosed longer ago are more likely to have realised that HIV (like diabetes and arthritis) is actually more than a one-pill-a-day shrug-off. The ups and downs of treatment — having to call off a date because you've blown up like a tomato, worried that your boss will see you popping pills, having to cancel a day's skiing because you've got to go for your viral load monitoring, — it can be a real pain. A pain that, on reflection, you might go out of your way to avoid passing on. That may be one reason why people who were diagnosed longer ago are less likely to expose their partners to HIV.
But treatment is improving all the time; as prevalence goes on rising and the ick factor falls, HIV becomes less and less of a pain. It seems likely to me, then, that barebacking will continue to rise. That makes people in public health crazy, of course. We have to think about resistance, a reappearance of AIDS, costs to the health system. But frankly, the guys who think HIV is no big deal at the individual level are not entirely wrong these days, at least in rich, socially tolerant countries with good health systems.
Ken Mayer and his colleagues in Boston end their paper by saying that we need "Innovative programmes that facilitate education and skills building around safer sex when MSM are relatively recently diagnosed". But frankly, we're never going to figure out how we should prevent HIV in a post-AIDS world if we can't make a convincing case to the individuals most at risk that we should prevent HIV.
For more nerdy observations on the Mayer and co. paper, read more.
As far as I can tell, the paper looks at syphilis, gonorrhea and chlamydia in HIV-positive gay men who come to a gay-friendly clinic for health care. It seems that guys are deemed to have had an STI if they test positive in a baseline study screening or if their clinic records say they had any one of those infections in their urethra, rectum or throat in the year before the start of the study or. But the arse or mouth appear to come only from clinic records. If that's correct, then pharyngeal and rectal infections may be substantially underestimated. Rectal STIs include infectiousness in Bottoms, which is worrisome for negative guys practicing "strategic positioning" — only ever being the Top when they're barebacking with a guy who is poz and who's status they don't know.
The study does have some measures of viral load at baseline; guys with detectable viral load (>75 copies/ml) were 68% more likely than guys with undetectable viral load to have barebacked with someone who might be negative. Since viral load is THE key in transmission, that's not good. The effect disappears, though, if you sling it in to a model with a lot of things that are related to viral load, including meds and years since diagnosis. But it would be hard to wave too many flags about that anyway — viral load is apparently measured only at baseline, while the unprotected sex we don't want to see in conjunction with it can be up to six months previously, and STIs (which also lead to spikes in viral load) up to a year previously. As though that's not enough confusion about time periods, drug use is measured up to three months previously.
Just to be clear, the thing that the Boston gay community (and/or the public health authorities) need to be most worried about in terms of ongoing spread of HIV among guys in care, are, in this order:
• Poz guys with detectable viral load being the top in bareback sex with guys they don't know are poz
• Poz guys with urethral STIs being the top in bareback sex with guys they don't know are poz
Drug use: ah yes. I was surprised by two things. The first is that "binge drinking" (defined as five or more drinks in one day any time over the last three months — oh dear, oh dear) is so low — at 19%. The other is that crystal meth use is so high — 23% worship at the shrine of Tina. If there is one mistress that makes you behave worse than most, it is surely Tina.
On the other type of drug, there's a bit of a surprise too while 66.1% of the nearly 400 guys in this study are on ARVs, only 54.4% had an undetectable viral load. That means that over 11% of these men are on meds and don't have an undetectable viral load in a single baseline measure. Pause for thought for those who's prevention strategy relies on thinking "Oh well, if he's poz he's probably on meds so he's not infectious".
One more deeply curious finding. Men who had any unprotected anal sex with someone that they didn't know was HIV-infected over the last six months were over four times more likely to have had an STI in the last 12 months (odds ratio 4.42, 95% CI 1.88 – 10.36). But when they looked separately at insertive and receptive anal sex, they found lower chances of infection for both. In receptive anal sex, which you might expect to be associated with greater risk of STIs generally, guys were under four times as likely to have had as STI as those who never took it up the butt without a condom, and despite the fact that it's by definition a subset of the previous measure, the confidence interval is narrower (OR 3.86, 95% CI 1.78 to 8.28). In insertive anal sex, which you'd expect to be perhaps less likely to associated with STIs, it was lower still: guys were just over twice as likely OR 2.11, 95% CI 1.04 to 4.30). I'm on a flight right now without my trusty stats textbooks, but in my mind, those you can't have smaller sub-sets of the same measure giving you tighter confidence intervals.
Maybe they are not sub-sets. The "risk behaviour" measure is unprotected anal sex with anyone who is not known to the poz guy to be infected with HIV. In the results section of the paper, the other two measures are described as "unprotected serodiscordant insertive anal sex" and "unprotected serodiscordant receptive anal sex". In other words, it's possible that it excludes the "don't know his status" partners, although the truth of it is that the only status you every really know for any length of time is poz. As the paper says in its introduction, poz guys have higher rates of all these infections, especially syphilis, so if there were a way of restricting the analysis to those who only had truly negative partners, you'd perhaps get those lower rates. But you'd still likely have wider confidence intervals.
In my day job, I teach a course in scientific writing; it includes a fair bit of paper critique work. If I were to add this paper to the course, what else would you expect students to pick out?