Since we've recently been on the topic of the female brain, I'd like to mark the passing of a very great one. Daphne Park, aka Baroness Park of Monmouth, once a controler of the uber spy agency MI6, governor of the BBC and principal of an Oxford college, died yesterday. With her died an era (for the British people) and a dear and valued friend (for me, and many others).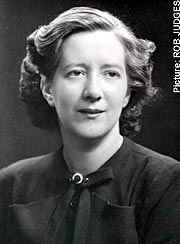 The British press will doubtless be awash with obituaries of this remarkable woman. The Times was one of the first, and The Telegraph, which also wrote a profile of her which caused her endless amusement, was quick off the mark, too. The Times is good on her steely determination; the Telegraph better at conveying her sense of humour. Neither focus on the more boring, old-fashioned values that she embodied: an extraordinary sense of duty, an unparalleled talent for discretion. She was actually cross about being "outed" as a spy, though simultaneously pleased that she got to tell some of her extraordinary stories to a wider and often incredulous audience. Though she broke laws regularly in order to save lives and, arguably, civilisations, she had no time at all for flouting of everyday rules and conventions. When she was principal of Somerville College, she made me pay £180 in library fines for a single 2/6 paperperback that I had borrowed, lost, and not fessed up to. Tut tut. Then she allowed me to say what books the money should be spent on.
Above all, Lady Park was fiercely loyal. It was this last that made her such an inspiration to me — she found time always to be interested in the twists and turns of a much younger friend's life, she was properly sympathetic about real setbacks but correctly pull-your-socks-up about self-indulgeance. She gave practical advice (laced with good single malt Scotch), and made us want to step up to the mark. The mark, with Daphne, was always set high. Some of us have taken our time, but all aim to be worthy of her faith in us in the end.
I'm not given to personal posts, let alone sentimental ones. But while I'm pulling my socks up, I hope some of you will discover Daphne.