Another thumbs down for the Swedish model. Not the leggy blonde, not even Sweden's moralistic approach to the sex trade. This one is the Swedish research model, which has managed to turn the fascinating subject of on-line rating of hookers by Brazilian punters into something indescribably dull.
Actually, that may not be fair. I think this research paper is dull. But honestly, it is so incomprehensible that it's hard to tell. It's written by physicists at Swedish universities, and perhaps to other physicists the observations are sexy. Here's a sample for you:
The probability distribution of the time between two subsequent
posts ΔTposts … is narrower than a power-law, but wider than an exponential or Poisson distribution, and consistent with a powerlaw with an exponential cut-off P(ΔTposts) = C exp(−α ΔTposts) / (ΔTposts + β)γ. That the distribution is broader than Poisson suggests a more complex dynamic than just sex-buyers posting independent of each other; that it is not a power-law means that the problem cannot be mapped onto other studies of human response dynamics.
Well, I'm glad the Swedish taxpayer has invested in sorting that out for us, then.
The paper makes a pretense of being important because sexually transmitted infections are passed through the networks of the sex trade. The physicists, who include glorious graphics like this: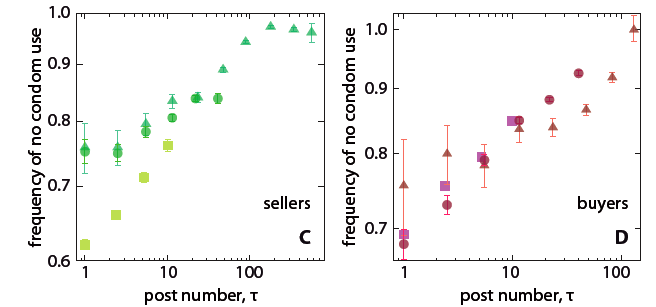 note that the sex workers who get the highest ratings go on to have more clients in the future (now there's a revalation). This worries them, because the more clients a girl has, the more likely she is to be exposed to diseases, right? Well no, actually. The more clients she has unprotected anal or vaginal sex with, the more likely she is to have an STI. But really, what's the likelihood of a girl getting consistently high ratings if she's sending clients home pissing glass? She gets high ratings because she's not exposing them to infection.
As an aside, I was interested to note that the forum allows punters to record three specific exotic or unusual practices: anal sex, oral sex without a condom, or kissing on the mouth. Note that in Brazil, which has one of the strongest HIV prevention programmes in the world, unprotected anal or vaginal sex with clients doesn't even make the list, very possibly because it is too rare to mention.
Thanks to Paul for putting me in the way of a paper I'd never have found, by way of Technology Review.