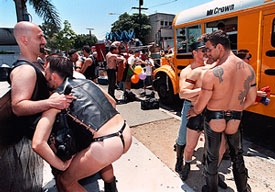 The other night, I was dining with someone who didn't know their acronym from their elbow. I had to explain MSM (mice that have sex with mice; no, wait…) and had a special rant about LGBT. For the unitiated that's Lesbian, Gay, Bisexual and Transgender. It just trips off the tongue, doesn't it? And it is just about as elegant conceptually as it is linguistically. Those groups don't actually want to hang out together very often (except, perhaps, where they're bidding for HIV funding). It's a bit like forming a trade association for Doctors, Actors, Farmers and Tailors — DAFT.
Inspired by Indonesian petrol stations, which sell "Elpiji" (LPG, liquified petroleum gas), I've started writing this most annoying acronym as "Eljibiti". But The Onion has done it better, in this hilarious spoof report on Gay Pride. LAGALABATATA — the Los Angeles Gay And Lesbian And Bisexual And Transvestite And Transgender Alliance. Like so much else in The Onion, it is so funny because it is so close to the truth.
Thanks to Roger for the smile.