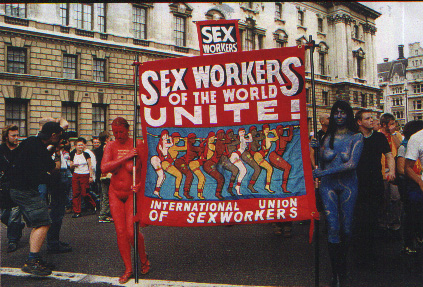 Christmas in London — what better way to celebrate than carol singing in the streets of Soho with singers from Westmister Abbey and the International Union of Sex Workers? The Rector of St Anne's parish in Soho swished out in front in long robes and fuschia beret but it was this banner, carried by Nico and Thierry, that really led the way. Note the trick photography — by the time we got out on the streets it was dark and floating with magical snowflakes; the boys were definitely wearing more than body paint.
Soho was full of good cheer; lots of people joined in the carolling and a couple of crusty punks pulled out descant voices that rivalled the cathedral choir's. There was much cheering for hookers; it made me wonder how many people knew that the jurassic feminists in this Nanny government had just the month before pushed through new legislation that will make it more dangerous for women (and men, and transgenders) to sell sex in the UK.
My challenge the evening of the carol singing was to tear myself away from the Glo-ooooo-ooooo-rias in time to heat up vast vats of mulled wine. I rose to that occasion ok. My challenge for the New Year is somewhat more daunting. TED has announced the programme for its next conference in California, and I'm hugely honoured to be speaking there, in some very great company.
TED talks are not very often about sex. But the best of them can even make statistics sexy. I leave you with this classic from Hans Rosling, an ally in the war on Data Hugging Disorder, but here popping some of the bubbles of the HIV narrative.