As promised, a note on the UK's latest data on HIV among drug injectors. Some of the US's battalions of Drug Warriors have been crowing that the new figures show a rise in infection rates among junkies in the UK: clear evidence that the nation's policy of making sterile needles and injecting equipment available to people who need them doesn't work.
Unlike the United States, the UK has bothered to track HIV infection among large, representative samples of drug injectors (both current injectors and those in methadone and other treatment programmes) since close to the start of the epidemic. Part of this effort involved testing anonymous samples of left over blood for HIV — the samples were usually taken from treatment or diagnostic purposes and are stripped of all but the most basic demographic and risk information (age, sex, length of time injecting, recent needle sharing) before being tested with HIV. The results, shown separately for London and the rest of England and Wales are shown below.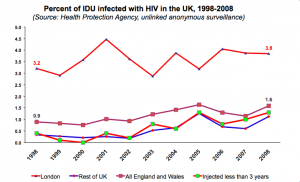 (Click to enlarge)
Yes, prevalence for the whole of England and Wales (including London — Scotland has its own system and reports separately) has risen by over 77% in the last decade. But still, fewer than one injector in 60 is infected with HIV. If you draw the graph using a normal percentage scale, you'll see something close to the true level of infection — still too high, of course, but not exactly an overwhelming prevention failure when compared with data from any city or country that doesn't have needle exchanges. The graph compares what happened in the UK with what happened in Jakarta, just because I happened to have the Indonesian data handy. But it would look just the same with data from Bangkok or Moscow or even New York in the years before the city (with no help from the federal government) began to hand out needles.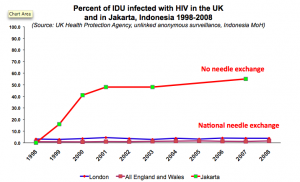 (Click to enlarge)
Since I'm just a numbers nerd and obviously don't have a great visual imagination, perhaps someone could help me out here: how can you conclude from these pictures that safe injecting programmes fail to prevent HIV?