Earlier this week, I gave a talk in Norway called "Panic in Perspective: Science, Media and the Creation of Pandemics". I chose the title months ago, and had no idea how topical it would turn out to be. The downside was that instead of exploring the beauty of Bergen in a kayak, I had to spend the weekend tracking news coverage of swine flu. Predictably enough, the poets laureate of headline writing on the British tabloid The Sun came up with the best front page to proclaim the impending "pandemic":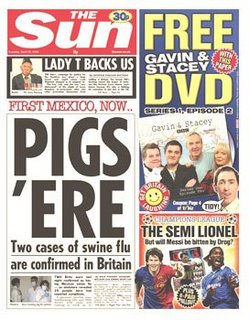 Why do I say "pandemic"? Because my understanding of pandemic influenza is that it involves three things:
a) a virus which is new to humans (and so we have no immunity to)
b) a virus that spreads easily from human to human
c) a virus which makes people very ill, or kills them
Using data up to Sunday, I made this graph: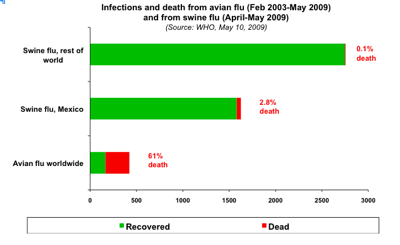 As you can see, avian flu ticks boxes a) and c) but not b). Swine flu ticks boxes a) and c), but apparently not b) b), but apparently not c). Don't forget that for both types of flu the death rates are probably overestimates, because this is registered deaths of registered cases. People who get only mildly sick are far less likely to be in contact with the health system and be tested for the flu strain — so they're far less likely to be registered as a case — than the severe cases who die. The less virulent the infection is, the bigger the overestimate is likely to be. It's likely that there have been tens of thousands of unregistered cases of swine flu in Mexico, and that only the most severe have made it into the country's miserably overburdened and inequitable health system.
There has been more coverage of flu in the last two weeks than at any time since George Bush announced the pandemic preparedness plan at the end of 2005 (more than three years after the first person died of bird flu, so not-all-that-prepared plan might be more accurate). It's all over the blogosphere, too, of course. One very good blog that I track when I'm doing my day job and that rejoices in the uninspired name of H5N1 is visited by about 400 sad, sciency nerds like myself on any given day. At the height of the swine flu scare, it was getting over 8,000 hits in a day.
One of the things that amused me as I tracked the news feeding frenzy around swine flu was how quickly it turned into cannibalism. By week two, news outlets (including my former employers) were running news coverage about the news coverage. I mentioned this in my talk in Bergen. Afterwards, a journalist from Norwegian TV came up rather sheepishly and asked for an interview, because they were doing a story about the media coverage of swine flu….
Thanks to James, who recognises the poetic genius of The Sun and archives their better headlines. And to David, who gave me the key to the other archive.