For the last 10 days, I've been watching Indonesia gear up for parliamentary elections, which take place tomorrow. My expectations of politicians are lowest around this time, but even I was cross to see the country's health minister undermining kids' well-being in a bid to rack up the votes.
When I was here six months ago, Health Minister Siti Fadillah Supari stomped on American scientists who've been trying for decades to help Indonesian colleagues build world-class research skills. The move played well to the growing Xenophobia of a minority of the population. But as rallies of flag-waving campaign louts brought Jakarta's slothful traffic to an absolute standstill last week, she went one better. She worried aloud that foreign pharmaceutical firms were using Indonesian children as testing grounds for dodgy vaccines. Sadly, the vaccines she called into question were some of the most effective on offer: hepatitis B, chicken pox, rubella and typhoid. While Indonesian paediatricians fumed, nationalists rallied around the ambitious minister, saying a review of foreign vaccines is long overdue. Supardi's own staff have been desperately backpedalling, basically admiting ("without elaborating" that the comments were little but political votemongering.
I'm not one to be too upset about being critical of Big Pharma when it's warranted, but in this case it's clearly not. The gossip in Jakarta is that Supardi is not anti Big Pharma, in any case. She justs thinks Indonesian businesswomen (and men) rather than foreigners should profit from the drugs the government buys. Shutting out foreign vaccines creates a market, in theory at least, for Indonesian firms such as Kalbe Farma, whose "Indonesia can do it too" press conferences are graced by the Minister.
I find it mildly ironic that Supardi gets such a good ride out of her anti-foreign demagoguery. Other members of her party think that pro- foreign sells better with the electorate than anti-foreign: they're surfing the Obama wave in search of votes.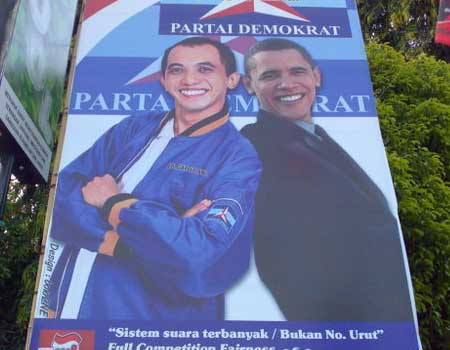 Thanks to Astry for this poster. There's a fantastic collection of election posters on Astry's blog, If you think Obama is kitsch, check out the candiadates who pose with David Beckham and Che Guevarra…