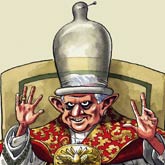 I, like many who've written to me, am speechless with rage at the Pope's first direct pronoucement on condoms. (Well, not quite speechless. I had a little vent about it in today's Times.) To oppose condoms on dogmatic grounds is one thing. That's the Pope's job, if he considers it his job to defend Catholic dogma more vigorously than defending the life of young adults.
But the Pope didn't oppose the use of condoms because Catholic dogma says it's bad to have sex without making babies. He said we shouldn't give out condoms in Africa because condom distribution actually makes the HIV epidemic worse. If he's setting himself up as an epidemiologist, he's got a bit of work to do. It's true that in some cases, condom use is highest in communities where HIV is also high. But Rule Number 1 of epidemiology: correlation does not equal causation.
Think of all the miserable sinners who rush (back?) to the bosom of the Catholic Church at the end of a happily dissolute life, just in time for a celibate man in a dress to give extreme unction. In an instant, our sins are absolved, though the pleasure occasioned by all that babyless sex may stand rich in our memory. I haven't run the numbers on death-bed conversions, but it seems likely that there is a strong correlation between becoming a Catholic and imminent death. By the Pope's logic, Catholicism kills.
*UPDATE* : The Daily Mash clarifies what the Pope actually meant.
Thanks to Anita Fenton for the enlightening tip.