The very first post on this blog, on World AIDS Day 2007, compared HIV rates in the US capital with those in Ethiopia, Congo and Angola. Now the city has issued another excellent report on HIV, and people are begining to wake up to the disgrace (bloggers comment here and here and here and here).
Blog comment is divided between "HIV is everyone's problem", "HIV is a gay problem" and "HIV is a black problem". I have the highest respect for DC's attempts to get to grips with this long-neglected issue, but I was frankly disappointed to hear city HIV director Shannon Hader take the "everyone is at risk" approach in an interview with NPR. So much so, that I went and made a little graph from the data: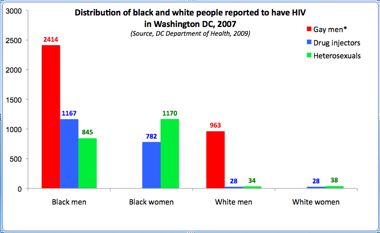 I've just looked at blacks and whites, I've included gay men who inject drugs in the gay men data, and I've ignored unknown modes of transmission — the full data are in the table at the end of this post if you're curious. But essentially, these data show fairly dramatically that in DC HIV affects black people far more than white people, and it affects gay men far more than straight men. A significant number of black women but virutally no white women are infected through drug injection, but more black women are infected because they have sex with black men. That's the way it is, and saying that there are some infections in every demographic therefor everyone is at risk won't change that. I should note that these are individual diagnoses, not rates — if we had denominators, the rates among men who have sex with other men and among drug injectors would dwarf heterosexual tranmission.
I was also surprised by NPR's handwringing over low rates of condom use. Apparently, though the data are not in the report, one in three adults in DC used condoms the last time they had sex. That's neither low nor high; it's meaningless. We don't need people to use condoms every time they have sex. We need people to use condoms with every partner who is remotely likley to be of a different infection status than themselves. As you can see from the graph, lots of potential partners including most white heterosexuals who don't shoot up drugs and have sex with others like them don't fall into that category.
One thing that shocked me in the report was the astoundingly high proportion of people who are still testing very, very late (within a year of being diagnosed with clinical AIDS, so when they've been walking around with undiagnosed infection for an average of eight or nine years). It's still an astoundingly high two thirds. It does, however, look like the DC health department's valiant efforts to increase testing and pick up more cases in settings where they are most likely to be found are bearing fruit in at least one way. The average CD4 count at diagnosis has risen from under 200 in 2004 to 332 last year. The CD4 count is a measure of how damaged your immune system is at the time of diagnosis. If the health system doesn't catch you and put you on anti-retrovirals until it's fallen below 200, you've got a much lower chance of survival than if treament starts earlier.