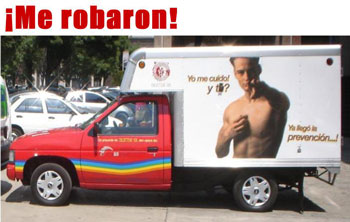 Ever spend time in Latin America thinking magical realism is more real than magical? From Mexico, we bring you the story of a 15-foot inflatable condom, stolen but returned to its distraught owner after a major media splash. The giant condom is now somewhat limp, however. Thieves hung on to the motor used to inflate it.
The giant condom, and the van that housed it, had just been on a 10-city tour of Mexico, drawing attention to the HIV prevention services also offered from the van. Information, condoms and rapid tests. The van was filched in Mexico City last weekend — some suspect by conservatives opposed to the immoral behaviour promoted by the drag queens and other outreach workers driving it.
After the Mexican media joined in a van-hunt it was relocated, abandoned in a parking lot, and returned to its rightful owners. Though the thieves had thought the better of inconspicuously driving around in a van with a penis-shaped banana on one side and a naked torso on the other, they were happy to take what they could. They made off with $ 5,000 worth of condoms (of various colours and textures), some test kits, and a sound system. I was pleased to see that they also took an HIV information module. Even conservative thieves need to know how to protect themselves. What they intend to do with the costumes and make-up used in the drag show, I can't imagine.
Aside: the NGO that runs the service reported 12 positives in the 2,500 tests they carried out in the tour before the test. That's a prevalence of less than half of one percent — either a testimony to prevention efforts or an indictment of scatter-gun testing. Still, maybe 15 foot condoms have their place in prevention programmes after all.