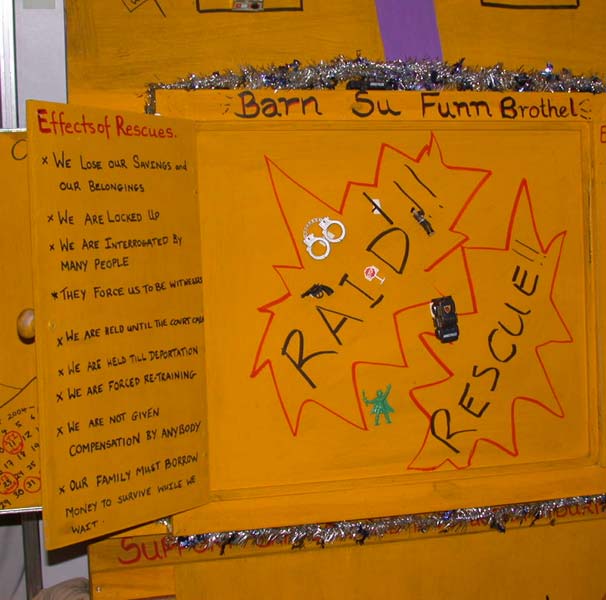 Today's post is copied wholesale from Laura Agustin. In the poster, the product of a workshop by the Thai sex workers rights organisation EMPOWER, sex workers relate what being "rescued" in brothel raids means to them.
• We lose our savings and our belongings.
• We are locked up.
• We are interrogated by many people.
• They force us to be witnesses.
• We are held until the court case.
• We are held till deportation.
• We are forced re-training.
• We are not given compensation by anybody.
• Our family must borrow money to survive while we wait.
• Our family is in a panic.
• We are anxious for our family.
• Strangers visit our village telling people about us.
• The village and the soldiers cause our family problems.
• Our family has to pay 'fines' or bribes to the soldiers.
• We are sent home.
• Military abuses and no work continues at home.
• My family has a debt.
• We must find a way back to Thailand to start again.
Many of these women are Burmese. They've worked hard to get to Northern Thailand, and their hard work while they are there is often a mainstay for their families. For me, the most telling of their comments is the last: after going through all of the nightmares associated with being "rescued" from a life selling sex, they have to start again from scratch. That means paying more bribes to get across the border, more jostling to get back into pole position at the brothel. It must be a consolation to the anti sex-work organisations that for the time between their rescue and getting back to work, at least, the souls of these women are safe.
Among anti sex-work organisations, some would include the Poppy Project, the originators of a somewhat lurid it's-all-about-trafficking view of the London sex scene was featured on IRMA recently. I'll let friends and colleagues who are closer to the London trade than I am respond to that more fully.