A couple of recent comments on this blog have made me question the nature of the beast.
Jerome Martin of Act Up Paris takes me to task for not speaking to Act Up before commenting on a statement from colleagues at the Treatment Action Group that was critical of Act Up's work. Jerome is quite right — I made no attempt to contact Act Up or seek their point of view. But am I ethically obliged to? If I were writing a news article in a publication which purports to give an unbiased view, certainly. If I were referring to their position in a scientific paper, of course. But if I am drawing attention to someone else's opinion of their work on a personal blog?
And my own opinions, are those not permissible either?
I ask because another commentator, who identifies him/herself as "anonymous because the internet is forever" (which, if I may be permitted an opinion, I doubt) thinks not. It was an aesthetic judgement. I referred to a person who looks like this:
as "dumpy". Just as you might refer to a person who looks like this: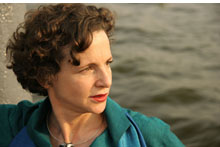 as "airbrushed". It was my impression that blogs were all about expressing opinions and allowing other people to express theirs. What's your opinion?