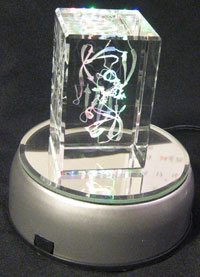 Other people get spam e-mails offering them all night erections and a life free of depression. I get offered syphilis diagnostic kits and statistical analysis software. And now, viral art. The sculpture pictured above landed in my in-box from Bioetch — no, that's not a typo. And I'm passing on to you the chance to buy a drug-attacks-virus paperweight at the discount price of US$ 69.95. With this lyrical description:
"We have used the highest quality green laser to 3D-engrave the HIV-1 protease complexed with indinavir within an optically pure crystal block (2″ x 2″ x 3.1″). The protease structure is rendered using a ribbon diagram and the indinavir structure is offset from the enzyme using a ball-and-stick model. The result is a perfect tool to view the beauty of this enzyme-drug interaction. It also makes a great gift or stylish decoration for your office or desk."
Hurry. The e-mail tells me there are only 8 left.