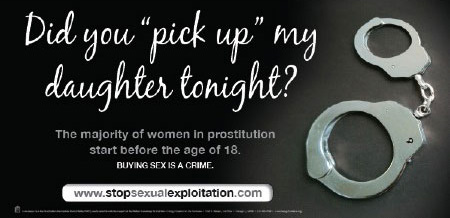 Here we go again. Prostitution, trafficking, the sexual exploitation of kids. All of a piece, all equally wicked, and all inextricably linked (and unpacked quite nicely over at Boinkology). It's what we've come to expect from the zealots who put their own souls ahead of other people's bodies and minds. The goody two-shoes rescue cowboys, the dumpy academics, shrill on their soapboxes.
Except the poster above doesn't come from the usual suspects. It travels around Chicago on the back end of buses, and is produced by the Prostitution Alternatives Round Table. I happened upon PART when I went to a talk they organised during my only ever visit to Chicago. (I know, I know, three days in Chicago and I go to public meetings with HIV case-workers? All I can say in my defence is that it was the second week of February and the room was well heated.) I believe PART is trying hard to find practical solutions to a constellation of social problems, including homelessness, which are woven into an uncomfortable fabric of poverty in Chicago. But not all sex work is cut from that cloth.
It so happens that I've just finished Tracy Quan's giggle-inducing Diary of a Jetsetting Call Girl (she's especially funny about zealotry within sex worker activism itself; I made a mental note to plan a major cull of my T-shirt collection). So today I'm perhaps thinking more about the top end of the industry. Obviously, sex workers who get flown across continents for champagne-fuelled working holidays in renovated villas do not represent all sex workers. But nor do under-age street walkers who are beaten iinto turning over four fifths of their earnings to their pimps. Sex is a complicated commodity, and its trade therefore makes for a kaleidescopically complicated industry. Over-simplifying the issue by re-painting it in black and white may suggest simple solutions, but it is unlikely to produce effective ones.