Bush may be quacking around with a limp, but the fundamentalists that support him are squeezing all they can out of these last, lame-duck months. For me, the first sign that US Christians were prepared to terrorise people into dropping contraception was this poster in the Tanzanian capital Dar Es Salaam. But it now looks as though they're going to impose their ideology in the United States first.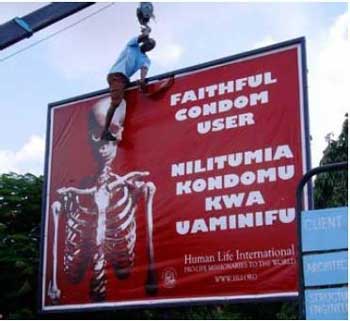 Condoms lead to death, apparently. Since one in 10 adults in Dar is infected with HIV, you might think it more likely that unprotected sex leads to death. But perhaps to the Catholic fundamentalist who put up the posters, passing on a fatal virus is preferable to the sin of using contraception.
At the time, I wrote that "The Condoms = Death campaign … marks a shift in rhetoric from anti-abortion to anti-contraception among a small but vocal core of conservatives in the United States. Unless something is done about it very soon, that shift is going to be imposed on millions of women and men across the globe."
It now looks like the first victims might be women on the home front. Under new regulations proposed by the US Department of Health and Human Services (pdf), many popular forms of hormonal and indeed mechanical contraception can be re-defined as abortion. And the legislation allows people who work in tax-funded clinics to refuse to provide those contraceptive services if it offends their delicate religious sensibilities. So much for separation of church and state.
Essentially, Conservative Christians, who've spent decades perfecting the use of the anti-abortion hot-button, are beginning to conflate contraception with abortion in much the same way as they've conflated prostitution with human trafficking. They don't try to hide it: Human Life International, the Virginia-based Catholic organisation which is responsible for the Tanzanian posters, declares "We exist…to fight the evils of abortion, contraception, sex education and family breakdown".
If this becomes entrenched in the States, it will certainly get exported around the globe. The AIDS funding legislation before Congress already prohibits the use of HIV prevention money to support contraception for infected women. We're willing to give a pregnant women expensive antiretrovirals to prevent her passing HIV on to her infant, but we can't give her cheap contraceptives if she'd rather avoid being pregnant in the first place.
It's shocking and completely irrational. Though perhaps they're just following the lead of the World Health Organisation. When I was last on a WHO contract the health plan wouldn't pay for contraception, but it would pick up the tab for an abortion. Ho hum.
For more details on the US legislation, see Amie Newman and Cristina Page.