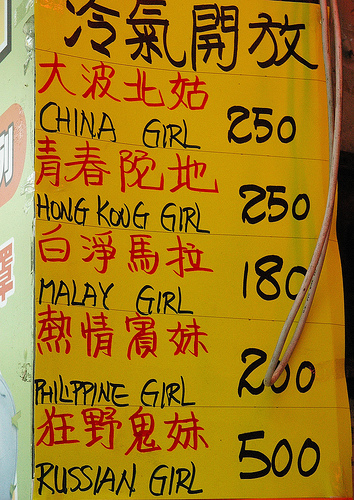 So a Russian girl is worth twice as much as a girl from north China, huh? And Malaysian girls are discounted fairly heavily. There are 460 million young adult women in China. That's 60 times more "girls" that you'll find in Malaysia (even if you count the Chinese Malaysians). My rudimentary understanding of economics suggests the scarcer commodity should sell for more. Perhaps some of our economist friends over at Marginal Revolution could explain what's going on before we become Unspun or propmt Ranting from those who know the true value of cewek Melayu…
If nothing else, I'm happy to note from the poster that all nationalities are working in air-conditioned rooms. In these days of rising temperatures and oil prices, that's a blessing whatever your price.
Hat tip: Unknown source via Digg and Mark Zip.