The results of the 2007 round of risk surveillance among US high-school kids are out. They find, wait for it, that despite nearly a decade of being told to cross their legs, American teenagers still have sex!
The proportion of teenagers having sex drifted downward for the first decade it was measured (the surveys started in 1991, a few years after AIDS bludgeoned its way into the heterosexual consciousness). Kids who did have sex used progressively more condoms over that decade, too. But in 2001, the year Georgw W Bush and his moralising supports came to the White House, the downward drift flattened out. A two-year assault on condom education later, condom use also turned the corner.
Trends in Sexual Behaviour among American high school students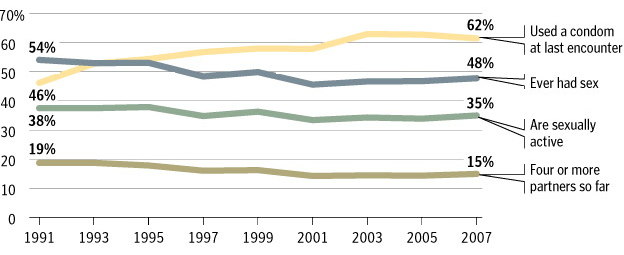 (Graph courtesy of the Washington Post)
Admirably, all of these data are available on the remarkably comprehensive CDC survey site so you can run your own tests for trend if you want. But many of the statistical caveats are in the Washington Post's careful coverage. One paragraph from the story bares repetition:
The new report did not examine the reason for the trends, but experts said there could be many causes, including rising complacency about HIV and AIDS, changing attitudes about sex and pregnancy, shifts in ethnic diversity, and the possibility that there will always be teens who cannot be persuaded to wait.
Well there's a surprise. Last year, 48% of these high school students couldn't be persuaded to wait (for what? marriage, which happens on average at age 28 for men and 25 for girls. Please!) Close to 40% had unprotected sex at last intercourse.