I ended my last post on an optimistic note. I should have known better. Canada's health minister is sharpening the guillotine, and hopes to chop down North America's only supervised injecting site despite a court ruling that the execution would be unconstitutional.
"In my opinion, supervised injection is not medicine; it does not heal the person addicted to drugs," Health Minister Tony Clement told the House of Commons health committee Thursday, according to The Globe and Mail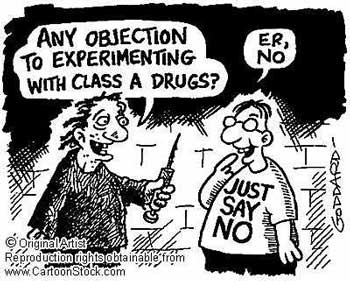 Well duh! The most ardent supporters of harm reduction would not claim that supervised injection heals addicts. They claim, rather, that it increases the likelihood that people will a) stay alive long enough to get off drugs and b) not be infected with a fatal disease once they do get clean. Unlike Mr. Clement and his cronies, they back up their claims with plenty of evidence.
That evidence is giving public health officials (as opposed to politicians) a headache. According to the Globe and Mail:
David Butler-Jones, Canada's chief public health officer, looked decidedly uncomfortable when asked whether he agreed with Mr. Clement.
"The science, I think, speaks for itself. The debate speaks for itself," Dr. Butler-Jones replied. "We provide the best advice we can. Governments and jurisdictions, as appropriate, make their decisions and have the political context in which they make their decisions."
(Apologies to Goddard for ripping off his great cartoon. I did try to pay for it on line, but the site led me on such a merry dance that I gave up…)