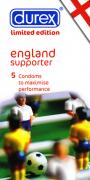 Though I like to rant that HIV is all about sex and drugs (as for example, in this profile in the Guardian), I've got a new thing to think about: football.
One of the coolest things about publishing a book, it turns out, is that people start doing your thinking for you. Last week, I had an e-mail from Elbereth Wentzel, a South African living in the UK who picked up The Wisdom of Whores in Edinburgh airport. She wrote to ask: what is the UK doing about HIV prevention for the Soccer World Cup, which will be held in South Africa in two years time?
Bloody good question. We know footballers like to behave badly. We certainly know England fans like to get drunk, and some of them certainly also like to get laid. And we know that women in South Africa (especially those most likely to accomodate a drunken England fan) are among the most likely in the world to be infected with HIV. I know that condom makers Durex made a special "England supporter" limited edition condom for the last World Cup. But we should be thinking of working at the club level to make people aware of the need to protect themselves if they are going to play ball while at the World Cup.
I mentioned this yesterday to a colleague at Britain's National AIDS Trust. They're already thinking about the 2012 Olympics, which will be in London, but the World Cup isn't on their radar screen, any more than it was on mine. So if there's nothing going on out there in fanland, maybe it's time to start. Any ideas?