From the ever-helpful Kaiser Family Foundation we have a new game: Pos or Not? Players get to see a photo and profile of young men and women, then have to guess whether or not the person is HIV-infected. It's intended to challenge prejudices and preconceptions, and I have to say it does it pretty well. Check it out by clicking here: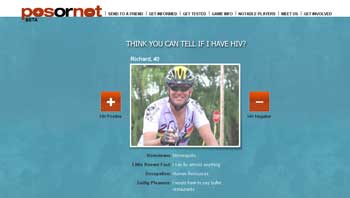 It takes me back to the time we were trying to explain the results of a study of HIV and syphilis to transgender sex workers in Jakarta. Stats — even terrifying ones like "23% HIV positive" don't necessarily mean much to people who dropped out of primary school, so we drew 100 waria on a graph and coloured 23 of them in red, and 17 in green, with quite a few in red and green stripes. The red ones have HIV, we said. The green ones have active syphillis. And it immediately opened up the discussion: who's a red one? How can we tell? Only by getting your test results.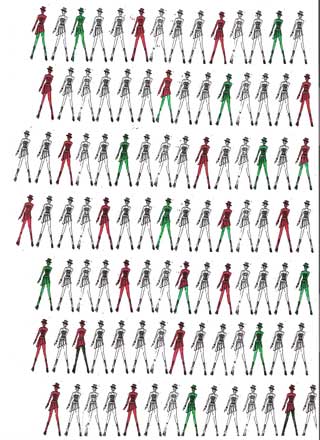 An HIV prevention organisation targeting gay men in Britain did much the same thing. They put 10 men on a poster with a who-will-you-go-home-with-tonight message: one of these men has HIV. The poster did not show faces, but a more focused part of the anatomy. I'm afraid I can't post it on a family website like this one… Much less give many details of the same organisation's wonderful campaign to get guys to recognise the symptoms of syphilis, and go for tests and treatment. Suffice it to say that the information came as an insert with a fabulous CD called Sex Pigs: 60 minutes of music to fuck by.
More politely, while I'm on syphils, check this delightful essay by Marlene Zuk. It discusses whether or not it is in syphilis's own interest to leave ugly, suppurating boils on the genitals. But it's delightful, really.