Five men face trial in Egypt on Wednesday for "habitual debauchery", a term apparently used as shorthand for being gay. Conveniently, debauchery is illegal in Egypt whereas homosexuality is not.
The trials are part of an ongoing crackdown on gay behaviour. Human Rights Watch and Amnesty International have rallied 117 NGOs from around the world to sign a letter to the Egyptian Ministry of Health and the national Doctors' Syndicate protesting against the abusive treatment of gay men and people suspected of being HIV infected.
In an interesting article, Bloomberg's Daniel Williams quotes Hani Shukrallah, executive director of the Heikal Foundation for Arab Journalism in Cairo, as saying that gays are a convenient target for a government that just wants to burnish its holier-than-thou credentials.
"Meaningless crackdowns have become a regular thing," Shukrullah said. "If not gays, devil worshippers. If not devil worshippers, apostates. The government needs to outbid Islamic opponents as guardian of morals."
Let's face it, gay-bashing is a favoured sport for fundamentalists in many countries. In the United States, its right-wing Christian groups such as the Traditional Values Coalition that top the league, but a number of Moslem countries are building up their teams.
Kuwait, for example, just passed a law that made cross-dressing illegal. Just as well Rudolph Giuliani's out of the US presidential race, isn't it? It might have cramped his style on state visits to Kuwait. Though he cuts such a good figure as a blonde that he might just have fooled them: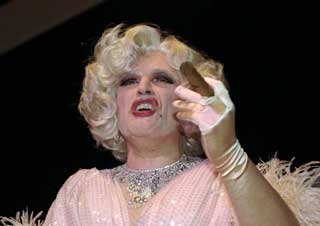 A good place to follow developments on this story is over at .