Want to know why nice girls sell sex? I've trawled through hundreds of academic papers pontificating about the motivation for selling sex, I've listened to quite a bit of gender-jargon from self-righteous feminists, and I've been sjubjected to too much of the sexploitation rhetoric from right-wing religious relics. But I've rarely seen a more straight-forward and evocative account than Rodney On Earth's. Rodney is a young English-teacher-turning photographer blogging from Jakarta. Read. Really, read.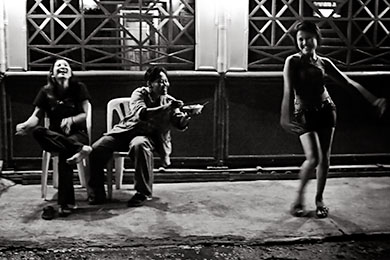 (copyright: Rodney)
With a minimum of hand-wringing, Rodney makes it clear what's at issue:
"The women all are very smart. Their key motivation is always to earn large sums of money in a relatively short time by what they feel is an effortless way, despite the mental and physical dangers. All of the workers have talked of their dreams to leave and lead conventional lifestyles."
In other words, these women, like many others in different professions, do a job they don't particularly like to earn a relatively good living. The girls get a flat fee of 85,000 rupiah (about US 9) for a half-hour session — rather less in this area on the grimy outer petticoats of Jakarta than the national average, though twice the minimum wage for a whole day's work. Most sex workers report getting extra tips; one reported getting 40 dollars extra for being nice to (but not even having sex with) a regular client.
Though the grimy outer petticoats of Jakarta are my regular stomping grounds, I was alerted to this post by Amanda Brooks of the Sex Workers' Outreach Project in the US.