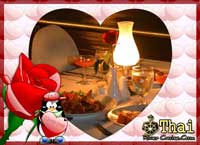 What with two a.m. closures and best-behaviour brothels, it has been quite a while since Bangkok deserved its international reputation as "Sin City, East". But the morality police are taking things a bit far this Valentine's day.
One in four Bangkok teens said they'd be celebrating Valentines day by having sex, according to a poll carried out by Bangkok's Assumption University. This, says a Reuters report has stung the authorities into action. The floodlights will be on in the parks, and The Powers That Be will be policing the city's motels to break up canoodling couples.
I note that the poll came from one of largely Buddhist Thailand's few Catholic universities. According the The Nation, the survey covered 1,159 kids aged 12-18. Catholic sites worry about the apparently casual attitude to sex, while others think the church should stay out of sex. My question is this: if only one in four intend to have sex on Valentine's day, what do the other three in four intend to do?