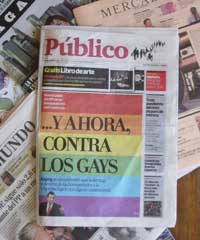 Spain's gay community is up in arms. The right-wing Popular Party chief, Mariano Rajoy, told 20 Minutos newspaper that he would try to revoke the rights of gays to marry and adopt kids if his party wins national elections on March 9. The story made the front page of some of the popular Sundays.
Gays have been allowed to marry in Spain since 2005, and around 80,000 Spanish children live with two parents of the same sex (although at the moment, only one of the parents is allowed to adopt a child formally). In a bid to curry favour with a powerful Catholic church, the Popular Party immediately challenged the right to marry in the High Court, and the case is pending. But there's nothing Popular about rolling back rights to gay marriage for most Spaniards. The Popular Party spokesman was quick to tell El Mundo newspaper that Rajoy was expressing a personal opinion, and that the party wouldn't adopt any formal position until the High Court has ruled.
That wasn't enough for Rajoy. Whatever the court says about marriage, he insisted, he would oppose adoption by gay couples. The worry, for me, is that Rajoy still seems to believe that political gay-bashing is a potential vote-winner in Europe. It is up to the Spanish electorate to prove him wrong.