Europe is baring all this winter, with major exhibitions of erotica in both London and Paris. But London has a side show more explicit than anything the French dare to show. Artist Jordan McKenzie masturbates over paper. Having seeded his artwork, he fertilises it with carbon powder, creating dashing artworks.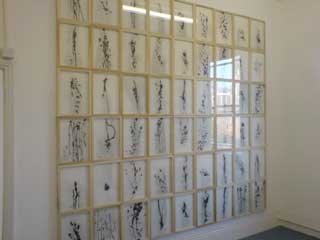 These great works have inspired this burst of pseudery from the Centre of Recent Drawing's David Gleeson:
"Signed and dated, the images collectively become an acknowledgment of human futility in the face of time as well as a violent record of male sexual drive. Caught and frozen as black-on-white eruptions, these simple auto-drawings plot desire, libidinal drive and sexual economies whilst powerfully evoking mortality and the will to overcome its inevitability. Each one has both an aggressive, chaotic imprint and a fragile delicacy that complement the medium, adding to the body of work by various artists that explores and articulates the notion of the artist as (pro)creator."
Less pseudy and a great deal more interesting is The Barbican Centre's Seduced: Art and Sex from antiquity to now. If you haven't seen it and you're in London (oh, and you're over 18), get your skates on: the exhibition ends next week. In Paris (if you're over the sightly more tender age of 16), check out the Bibliotheque Nationale's L'Enfer de la Bibliothèque: Eros au secret. It's an exhibition of all the things that have been locked out of public view for fear of disrupting national morals. That wouldn't include the sex life of President Nicolas Sarkozy, then.