19/12/07
Becks appears to prefer Giorgio Armani's.
And when you consider the alternatives…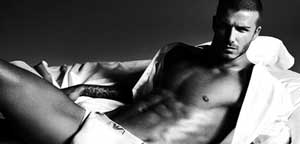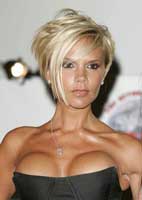 This post was published on 19/12/07 in Gallery.
Send this post to a friend
4 comments
You can follow the comments on this post via this RSS feed.
Comment by Peter Wood, 19/12/07, 09:31:

It's all tits and ass to me…but Mr. Beckham wins hands down…ahem.

Comment by Tony C, 19/12/07, 09:50:

The poor hussy… what has she done to those boobs … and why won't she just… eat?

And that face: has she purposefully chosen the piggy look in her surgery and other developments?

As for Becks a la Michelangelo's David? No comment.

Comment by Sara, 19/12/07, 04:32:

Ah…poor Mr & Mrs Becks! what a shame Posh feels such a need to succumb to the media pressure to the point where she had surgery before she let any one see her after the delivery of her last child. I think they hoiked her boobs up too far, though. Did anyone see Sir Beck's interview on the LAST EVER Parkinson show? Poor Parkie even he could not cover up the huge gaps in conversation with him. One can argue about the impact that their appearance has on the psyche of teenagers, but they are pretty harmless themselves and even try to do good things. Bless.

Comment by Fox, 20/12/07, 04:33:

Those boobs are just so wrong!

Comments are closed at this time.