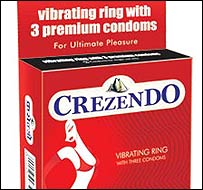 Sales of the England football supporters condoms linked to in the previous post may have drooped along with the team's performance, but there's no shortage of other specialist condoms to keep the spirits up. Earlier this year, a virbrating condom sent waves through the Indian market.
The Crezendo condom vibrates through a battery operated ring at its open end. This, say manufacturers, enhances both pleasure and sales, and therefore makes it an effective tool against both pregnancy and sexually transmitted infections. This, say scandalised opponents, makes it a sex toy, which are banned in India.
The idea that sex should be fun — though firmly held by Asoka Ratwatte who brought this wonderful product to my attention — is apparently not yet universal.